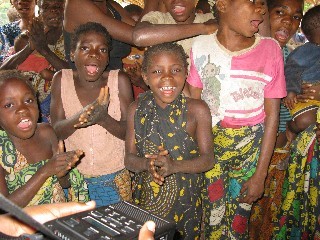 The first ever indigenous peoples' language radio gets ready to broadcast in the Republic of Congo.
This recording is one of the first made at Biso na Biso. It includes jingles and editorials created and recorded by TFT's radio coordinators, Francis Wabout and Privat Massanga, and two interviews with individuals from the local communities around the station. The remaining voices and music are those of the indigenous people (Pygmies and Bantu, children and adults) living in and around the CIB concessions. The main message is the clear presentation of the mission, goals and programmes that will be heard on radio Biso na Biso. Its formal launch and first official broadcast are scheduled for early April 2009.
Cet enregistrement est l'un des premiers réalisés par Biso na Biso. Il inclut des jingles et des éditoriaux créés et enregistrés par les deux coordinateurs TFT de la radio, Francis Wabout et Privat Massanga, ainsi que deux interviews avec des personnes issues des communautés locales situées dans la périphérie de la radio. Les musiques et les voix en fond sonore proviennent des populations locales (Pygmées et Bantous, enfants et adultes) vivant à l'intérieur et autour des concessions forestières de la CIB. Le message principal de cet enregistrement est une présentation claire de la mission, des objectifs et des programmes qui pourront être écoutés sur les ondes de la radio Biso na Biso. Son lancement formel et sa première émission officielle sont programmés pour avril 2009.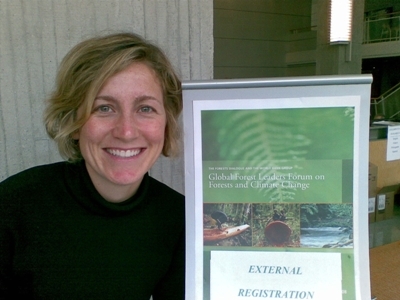 Scott Poynton met up with Sofie Beckham, Forestry Manager for IKEA Supply Chain, in Washington D.C last September. It is taken us a little while to post the interview but here Sofie speaks about her job and how she came to be involved in forestry.
The FSC held its 5th General Assembly (GA) from Nov 3rd to 7th, 2008 in Cape Town South Africa. FSC holds a GA every 3 years with the purpose of bringing FSC's diverse membership together to discuss developments in the FSC and to vote on new motions to guide FSC's future operations. FSC reports that some 300 participants from nearly 70 countries attended the event.
TFT was present at the GA in our capacity as an FSC Economic North chamber member and we spoke to a wide range of people about the FSC, the GA itself, their views on how the meeting progressed and their hopes for the FSC going forward. 19 interviews are posted below as a 'Voices from the FSC GA' podcast collection. To listen to all of them, visit us at:
http://tft.podomatic.com/
More information on the events at the GA can be found at the FSC website www.fsc.org.
Interview during FSC General Assembly 2008
Interview during FSC General Assembly 2008
Interview during FSC General Assembly 2008
Interview during FSC General Assembly 2008
Interview during FSC General Assembly 2008
Interview during FSC General Assembly 2008